Bringing Jollibee's Banana Langka Pie to New Zealand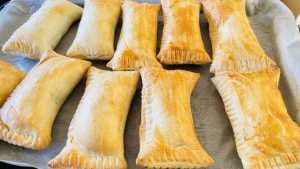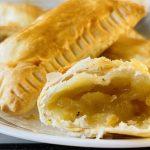 Jollibee's Banana Langka Pie Recipe
Print Recipe
Banana langka pie is a famous snack in the Philippines and it's being sold by a famous fastfood restaurant. It's one of the things I miss in the Philippines. So to satisfy my cravings, I made one. Although the recipe I did is through baking, you can also fry it if you don't have oven. Try this recipe!
Ingredients
5

sheets

flaky puff pastry sheets

cut into 4 pcs

7

pcs

saging na saba or plantain

5

pcs

langka or jackfruit

3/4

cup

brown sugar

3/4

cup

water

2

tbs

cornstarch

for slurry
Instructions
Thinly slice saba banana.

Chop the jackfruit/langka.

In a medium sized sauce pan over medium heat, add water.

Stir, then add brown sugar.

When the banana and langka is soft and tender, add the slurry.

Using the pastry sheets, wrap the banana langka pie filling.

Bake at 200C for 15-20 minutes or until golden brown.

Let it cool, then serve. Enjoy!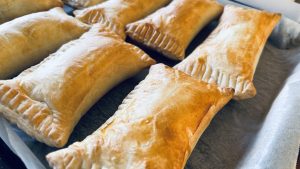 For more recipes, please click here.
To see how I made it, check this video. Thank you! 
---