Best Ginataang Bilo Bilo Recipe
Ginataang bilo bilo / halo-halo, or tambong-tambong in ilocano, sampelot in kapampangan at binignit in bisaya is a popular snack in the Philippines that's made out of glutinous rice balls, sweet potato, plantain, tapioca pearls, jackfruit. Cassava and taro can also be added. This recipe only use glutinous rice balls, sweet potato, plantain, tapioca pearls and jackfruit. Some of my ingredients are frozen because they're not locally available here in New Zealand.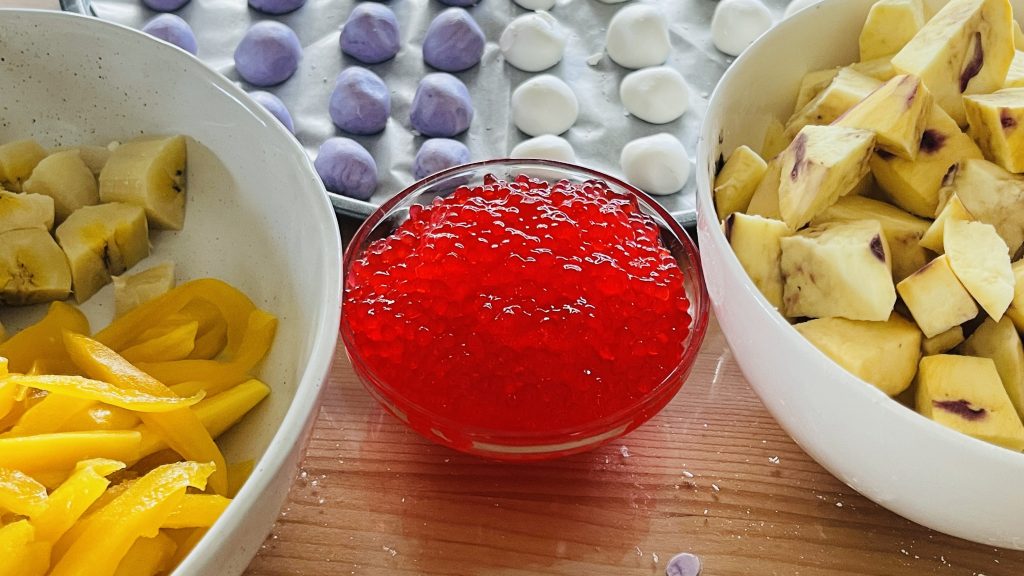 Seems it was only yesterday that we have this as our snack after playing sipa or patintero with my bestfriend back then. We usually put fresh coconut milk as garnish before we eat it. I haven't tried using canned coconut milk though.
Here's the recipe of Ginataang bilo bilo.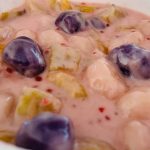 Best Ginataang Bilo-bilo Recipe
Print Recipe
Made out of coconut milk, rice balls, sweet potato, jackfruit, tapioca pearls, taro, cassava.
Ingredients
1

cup

glutinous rice flour

1/3 – 1/2

cup

water

for making bilo bilo

6

pcs

saba / plantain

cut into cubes

5

pcs

jack fruit / langka

cut into strips

3/4

cup

sugar

1 1/2

can

coconut milk

about 600ml

1 1/2

cup

water

1

cup

tapioca pearls

4

pcs

pandan leaves

this is optional
Instructions
Rice balls / bilo bilo
In a large bowl, put the glutinous rice flour.

Mix it until dough is formed.

From the dough, make rice balls by rolling it in between your palms. Rice ball is about 1.5cm in diameter.

If you want to have a colorul bilo bilo, put food color on half of the glutinous dough.
Ginataang bilo bilo procedure
In a pot over medium heat, put the water and the pandan leaves if you're using pandan leaves. Bring it to boil.

Add half of the coconut milk and stir.

Add the sweet potato and cook for 6 minutes.

Add sugar and the rice balls and cook for 7 minutes or until the balls float.

Put the remaining coconut milk.

Add the cooked plantain banana. Cook for 2 minutes.

Add jackfruit and cook for 4 minutes.

Lastly add the tapioca pearls.
How I made it?
You can watch how I made this! –> here
For more recipes, please check it here.
---