How to make extra-soft Pandesal using breadmaker
Pandesal is a classic filipino bread that is loved by many. Being overseas and doesn't have access to bakeries forced me to try and make my own pandesal. My pandesal goal is the Pan de Manila (pugon pandesal). I want my pandesal to be soft in the inside and crispy on the outside. That's my end goal.
I started my pandesal journey May2013. My first pandesal was soft coming out of the oven. After maybe 2 hours, it's stone-hard 😀 .
First photo in the gallery was taken on May2013.

I didn't give up. I kept on trying. Next tries it lasted being soft for about half day after baking 😀 then same thing happens, it turns into a stone haha. Have you heard of the saying "Pag binato ka ng bato, batuhin mo ng tinapay" (throw bread insteasd of stones) ? You don't need bato(stone) anymore, cause you literally have 2-in-1 bread. I still didn't give up, because I really miss eating pandesal.
Buying breadmaker is the best thing I've done because it helped my with my pandesal journey. Later on, I've found out that the secret to a soft pandesal is proofing for 8 hours or more. This will apply even on your own recipe.
So without much further ado, here's my extra-soft pandesal recipe.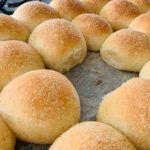 Pandesal Recipe – soft inside, crispy on the outside.
Print Recipe
I'm using breadmaker to make this recipe. But if you have your own recipe, I'll tell you a secret on how to make it even more soft.
Ingredients
1/8

cup

Vegetable oil

3

cups

All Purpose flour

1

cup

Warm milk

1

tsp

Salt

1/4

cup

sugar

2 1/4

tsp

Instant yeast

1

cup

Fine bread crumbs
Instructions
Using breadmaker, put the ingredients according to this order –

Warm milk, oil, salt, flour, sugar, yeast.

Set the breadmaker settings to Dough.

Wait until it finish kneading and proofing, about 1.5 hours (depending on your BM).

Once the dough is ready, put it on a flat surface and cut it into 4 parts.

Cut and shape each part according to what shape you want in your pandesal. I wnat it round so I roll each piece about 55g into a ball.

Cover the dough ball in bread crumbs.

When you're about to finish shaping the dough, heat up your oven to 180C/350F. This is for proofing.

Put the shaped dough in the warm oven. Proof it for 8 hours or more. This is the secret of a soft pandesal.

After 8 hours, remove the dough from the oven. Preheat the oven to 160C / 320F.
If you like this recipe and wanting more, please check my other recipes here.
If you want to see how I've done it, please check here.
---